Increase your download and upload speeds - Average 25mb/s up to 50mb/s
Are you experiencing low speed and temperamental internet through your landline? Where upload speeds are simply too slow to facilitate any security cameras or systems? We have the solution. With our unique skills and custom-built equipment, we can install fast 4G broadband to almost any location, even if it doesn't have mains power.
Speeds will vary in different areas around the UK. It is best to install our antenna as high as possible, but sometimes a wall mounting can prove to be sufficient.

If you dont like the antenna being white, we paint it any colour you like to ensure it blends in naturally in rural areas.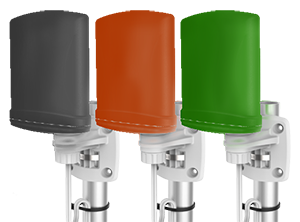 Service providers and contract options
1 month to 24 month contracts

These are currently the best service plans and deals, however there are many other options avalible.
When we visit you to complete a site survery we will test each one to see which service has the best signal and speeds in your area.
Prices and Options
All prices quoted here are subject to a full site survey and network test.
We will install a site specific 4G antenna which connects into the best router for your needs. This optimises the 4G reception and guarantees the fastest connection possible. The routers provided by carrier networks will not be optimal for rural locations.
In most cases Option 1 will be sufficient to receive 20mb/s or more.