These cameras and alarms warn you of an intrusion instantly on your phone and record the movement.
You can control all the settings of the alarms and cameras from your phone.
You can access them from anywhere via the internet, on your phone or computer.

If you don't have WiFi, or your site, barn, gate, shed or container is in a remote locaiton, then use one of our custom built stand alone units...
SDS4G - Battery and solar powered 4G Router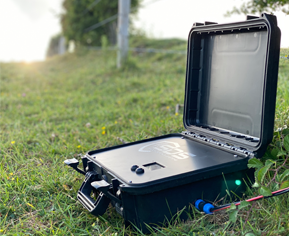 This can connect up to 60 Ring cameras to the internet.
Ring cameras have instant notifications
and excellent picture quality day and night

These are currently the best service plans and deals, however there are many other options avalible.
When we visit you to complete a site survery we will test each one to see which service has the best signal and speeds in your area.
We can install and setup any CCTV system for you, including Ring cameras.
Contact us for advice or to get us out to perform a site survey and go through the different options.